Why Choose System X Ceramic Coating?
System X® is an earth shattering advancement in ceramic chemistry, with a full line of products based on this proven nano-ceramic breakthrough. For the best experience and enhanced performance, each product variation is specially formulated for a given application. Learn what each System X® formula has to offer.
System X Shows up on your vehicle's CARFAX!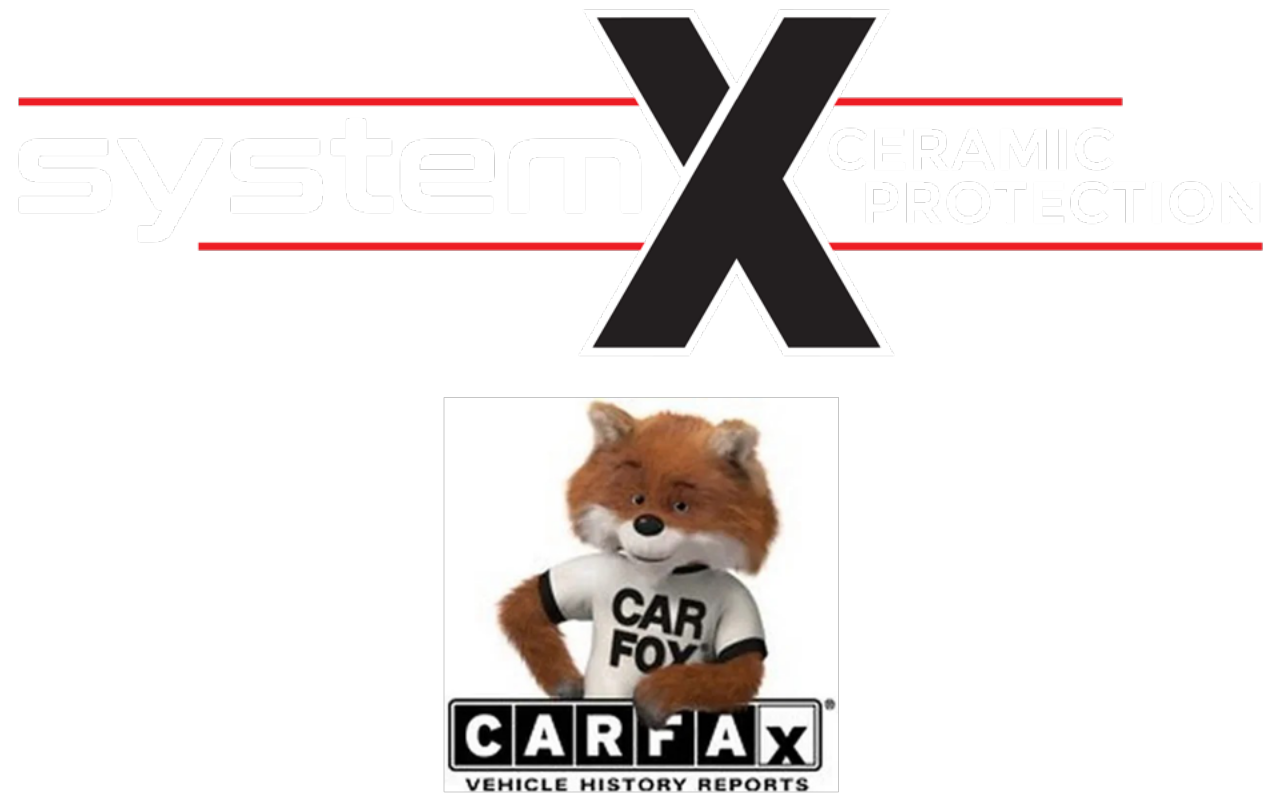 SYSTEM X COATING PACKAGES
**LIFETIME WARRNTY AND REPORTS TO YOUR CARFAX**
Hand wash
Spot Free Rinse
Clay Bar Treatment
Rim and Tire Cleaning
Tire Dressing
1 Step Paint Correction to Remove Scratches
(2 Step Paint Correction Available)
Lifetime Ceramic Coating on all Painted Surfaces
3 Year Coating on Rims
2 Year Coating on
windshield
Coating will be Infared Cured
$1500 for Cars
$1600 for Mid Sized Trucks and 2 SUVs
$1700 for Large Trucks, Vans and 3rd Row SUVs
10% Deposit required at checkout to hold appointment
BOOK NOW
** Comes with 6 Year Warranty and also Reports to your Carfax **
Hand wash
Spot Free Rinse
Clay Bar Treatment
Rim and Tire Cleaning
Tire Dressing
1 Step Paint Correction
(2 Paint Correction Available)
6 Year Ceramic Coating on all Painted Surfaces
Coating will be Infared Cured
$1000 for Cars
$1100 for Mid Sized Trucks and 2 SUVs
$1200 for Large Trucks, Vans and 3rd Row SUVs
10% Deposit Required at checkout to hold appointment
BOOK NOW
Hand wash
Spot Free Rinse
Clay Bar Treatment
Rim and Tire Cleaning
Tire Dressing
1 Step Paint Correction
(2 Step Paint Correction Available)
3 Year Ceramic Coating on all Painted Surfaces
Coating will be Infared Cured
$700 for Cars
$800 for Mid Sized Trucks and 2 SUVs
$900 for Large Trucks, Vans and 3rd Row SUVs
10% Deposit Required at checkout to hold appointment
BOOK NOW